An all-around solution to take care of your data recovery
A single product suited to different types of storages
PC/laptop

Mobile device

USB flash drive

Memory card

Hard drive

RAID
And numerous data loss incidents they get affected by
Deleted folders
and files

Formatted
volumes

File system
corruption

OS-related
problems

Errors caused
by software

Physical
damage
Restore the missing files
with maximum results and minimum effort

Documents

Images

Video
clips

Audio
tracks

Emails

Other
formats
No matter how complex the task ahead is
There is a utility that responds to your particular issue
Standard
RAID
Professional
for common
cases
for RAID-related
tasks
for complicated
instances
Data recovery under Windows, macOS, Linux
Work with simple physical devices
Support for disk images and virtual disks
Special toolkit for reconstruction of RAID sets
Optional simplified mode based on a "Wizard"
Additional tools (search, preview, filters, etc.)
Immediate decryption of encrypted storages
Support for specific technologies, like Drobo and RAID-Z
Data access and recovery from VMware VMFS
Data recovery from volumes of WD My Cloud Home
Instruments for advanced content analysis
Professional-grade efficiency coupled with simplicity
Get the most out of your DIY data recovery procedure

Intelligent reconstruction techniques
Recovery Explorer is able to find lost partitions, restore damaged file systems and locate the missing data using sophisticated recovery algorithms that are equal to ones available in purely professional software products.

Useful additional functionality
Equipped with various supplementary options, the software makes the recovery process efficient and smooth: you can assess the state of the data and its size, run quick or advanced search, preview files, sort or filter them by chosen criteria.

Friendly and straightforward interface
The program's interface is fit for use by experts and persons with basic skills alike. Advanced users will find it convenient for solving their regular tasks, whereas novices can switch to the Wizard-based mode to make the usage absolutely elementary.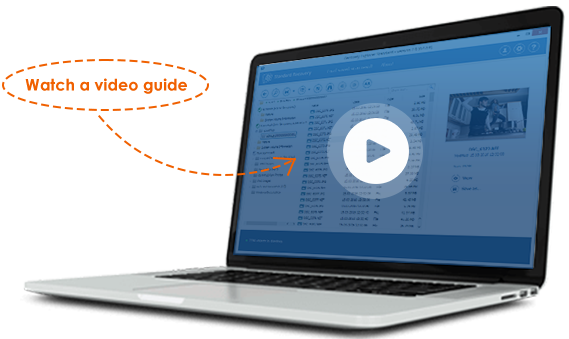 Cope with the trickiest cases of data loss

A broad range of supported file systems
Windows:

FAT/FAT32/exFAT, NTFS, ReFS/ReFS3

macOS:

HFS+, APFS

Linux:

Ext2/Ext3/Ext4, XFS, Btrfs, F2FS, ReiserFS, JFS

BSD/Solaris:

ZFS

VMware:

VMFS, VMFS6

Data recovery from RAID of various setups
Standard RAID levels:

RAID 0, RAID 1, RAID 1E, RAID 3, RAID 4, RAID 5, RAID 6, etc.

Nested configurations:

RAID 10, RAID 50, RAID 60, etc.

Non-standard layouts:

Drobo BeyondRAID, Synology Hybrid RAID, ZFS RAID-Z, Btrfs-RAID, etc.

Custom RAID:

defined manually via the RAID Definition Language (RDL)
Great diversity of supported storage technologies
Windows Dynamic Disks
Storage Spaces
NTFS/ReFS Data Deduplication
BitLocker
Apple Software RAID
Fusion Drive
FileVault 2
APFS encryption
mdadm
LVM with Thin Provisioning
LUKS
TrueCrypt/VeraCrypt
VMware
Hyper-V
QEMU
XEN
VirtualBox
Drobo BeyondRAID
Synology Hybrid RAID
WD My Cloud
ZFS RAID-Z
Btrfs-RAID
An advanced toolkit geared towards challenging data recovery scenarios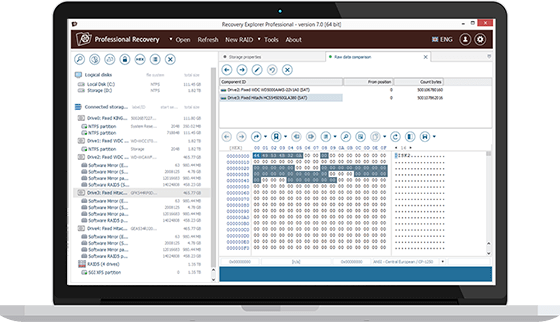 Controlled reading of drives and saving of the accessed data
Hexadecimal viewer with a data interpreter and structure templates
Storage content comparison, parallel search and parity calculator
Reverse address translation for tracing allocation of the data
Hexadecimal editor with a number of auxiliary options
A tool for monitoring the S.M.A.R.T. status of drives
Software editions for cases of different complexity
Each supplemented with an individual combination of functions and features
Choose an application that fits your data recovery needs

Standard
for common cases
Universal data recovery tool at an affordable rate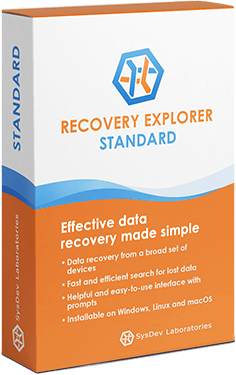 Work with the file systems of Windows, macOS and Linux
Data recovery from simple physical storages of various types
Support for popular disk image and virtual disk formats
Discovery and virtual reconstruction of the missing partitions
Various additional possibilities (search, preview, filters, etc.)
Prior assessment of the condition of recovered files
Optional simplified mode based on a "Wizard"
Useful recommendations at each step of the process

RAID
for RAID-related tasks
Good value for data recovery from RAID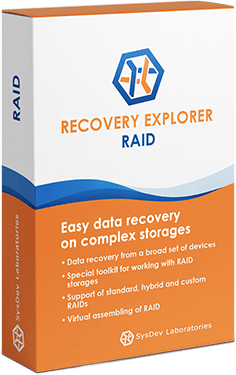 All functions presented in the Standard edition
Specialized toolkit for work with RAID storages
Instant detection of RAID sets and their assembly
Perfect for RAID-based servers, DAS and NAS units
Support for standard, nested, custom RAID patterns
Additional tools assisting in the analysis of RAID layout
Support for Storage Spaces, LDM, LVM, mdadm, etc.
Data recovery from Synology Hybrid RAID, Btrfs-RAID

Professional
for complicated instances
The most extensive data recovery capabilities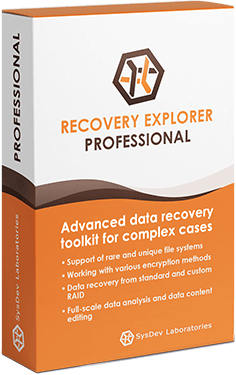 Coverage of the major features available in the Standard and RAID editions
Expanded spectrum of supported file system types
Embedded decryption techniques for encrypted storages
Data recovery from Drobo BeyondRAID, ZFS RAID-Z
Substantial set of processed composite volumes
Opening virtual disks and images directly from the file system
Configurable procedure for saving the recovered data
Set of means for efficient content analysis and modification
Multiple licensing options
Get an optimal license in accordance with the intended use

Standard

Personal
€39.95

Commercial
€69.95

Corporate
€119.95

RAID

Personal
€79.95

Commercial
€179.95

Corporate
€299.95

Professional

Personal
€179.95

Commercial
€559.95

Corporate
€799.95
The details related to the usage of different types of licenses are described in the End-User License Agreement.
Try out any feature absolutely free of charge
Download a free trial version to test the effectiveness of the application
System requirements
---
It is strongly recommended to use the free version of the data recovery software before purchasing a license. The program can be installed on Microsoft Windows (from XP with Service Pack 3), macOS (version 10.15 and above) or most modern Linux distributions and is compatible with the Intel 32-bit (IA-32, x86) and AMD64 (x86-64) host CPU architectures. The bare minimum required to run the software is at least 20 MB of free space on the drive and 1 GB of RAM. The most suitable configuration is a 64-bit edition of the supported host operating system, over 1 GB of free space, at least 2 GB of RAM and 4 logical cores CPU.
Popular questions
Is the use of Recovery Explorer absolutely safe for my storage device and the data on it?
Recovery Explorer works entirely on-site and in a safe "read-only" mode. In no case can it make any modifications to the source storage, alter its structures or transmit any information from it to remote servers. If the digital medium itself doesn't bear any physical flaws and you accurately use the functions of the program, there is no threat to the integrity or security of the data. However, if your storage device is defective, a self-made procedure assumes a high risk of permanent data loss, so it is strongly recommended that you reach out to a trustworthy data recovery service provider.
How do I make a choice between the editions of Recovery Explorer?
Recovery Explorer offers three software editions, so it is possible for everyone to choose the most apt set of tools and features.
Recovery Explorer Standard
deals with the basic data loss scenarios associated with simple digital media;
Recovery Explorer RAID
can be employed for processing both simple storages and complex RAID-based devices;
Recovery Explorer Professional
presents an extended set of instruments for dealing with complex RAID sets, specific storage technologies, encrypted or corrupted storages.
Where can I see the technical specifications of Recovery Explorer and its help documentation?
You can find the detailed information about Recovery Explorer and its supporting materials on the
Recovery Explorer website
. The most important characteristics of the software are also available on the respective product pages in the
Software Store
.
Is it possible to test the application before ordering a license?
Recovery Explorer is distributed as shareware, thus, you can check whether its results satisfy your demands by running the free trial version of the chosen program. The trial version includes all the functions of the software, its limitations are related to the size of the recovered files that can be saved – 256 KB for Recovery Explorer Standard and 768 KB for the RAID and Professional editions.
What should I do to install the software?
Download the free trial version of the corresponding Recovery Explorer product. Please, don't use the drive with the lost or deleted data as a location for saving the installation file. Run the executable file in your operating system and follow the on-screen instructions. If you need more information regarding the installation procedure, please, refer to the
Setup instructions
.
How can I purchase and apply a license for the program?
A license for Recovery Explorer can be ordered from the webpage of the respective Recovery Explorer product in the
Software Store
or by using the "Order license" button from the "Software Activation and License" dialog in the program's interface. After your payment is processed, a Registration Code will be sent to the email address provided in your order. To activate the license, download a free trial version of the purchased software and enter your name and the Registration Code from the email in the "Software Activation and License" dialog.
Watch video guides and learn more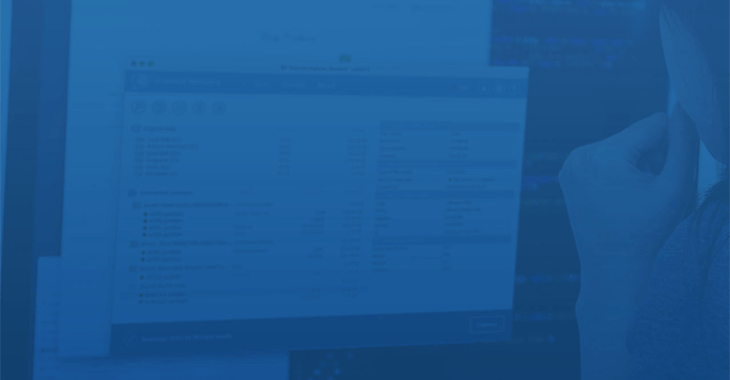 Wizard-based data recovery procedure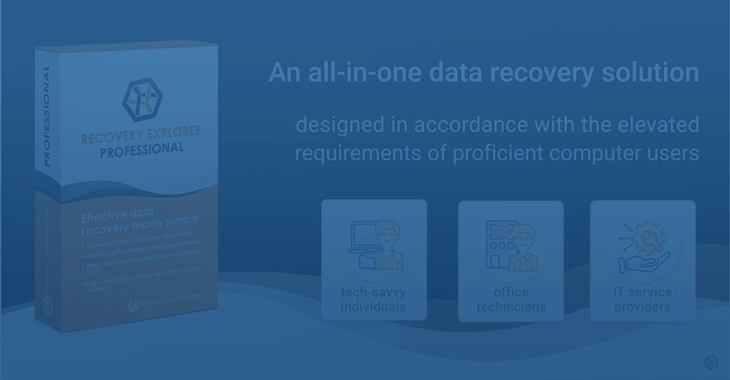 Recovery Explorer Professional version 8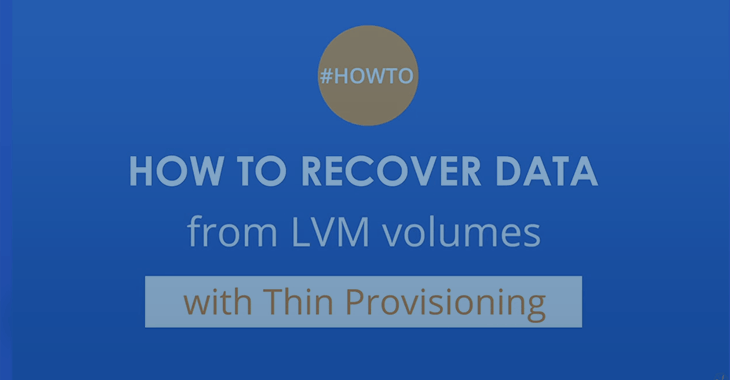 How to recover data from a thin-provisioned volume
If you have other questions, please don't hesitate to reach out to our support team.